1ST INTERRACIAL SEX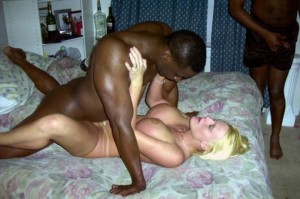 My first "taster" of interracial sex was when I was at a party when I was 18. I had a friend from college who was dating a black guy and she was telling me all about his size. So typical me, I had to find out for myself.
There were quite a few black guys at the party and one guy in particular stood out to me. His name was Owen and he was 29 (after inquiries to my friend) but I wasn't bothered about that too much really as he was a well built good looking guy and was bound to have some experience! I had a few guys hanging around me that I wasn't interested in so once I'd got rid of those, I was ready! He was already looking over at me so it only took a little shy girlie smile to trigger his move on me. We had a few drinks there and then headed off somewhere else for a few more.
I was dressed in a black cord skirt, black hold-up stockings, black heels, white blouse and white cotton coat. (No panties – please note…) The skirt was knee height and very figure hugging! The stockings were really long and really gorgeous! They were very silky and smooth against my very long pins! They had an ankle motif too – a little black bow with a diamond in the center. It sat perfectly above the heel of my shoe, like it was supposed to. They looked very sexy indeed!
It was the 1st pair of really classy stockings that I'd ever had. I bought them via mail order from a glossy lingerie magazine I had. It's main use was so I could drool over and admire the female models in it but I spotted the tall hosiery advert and got myself a postal order 7 days previous and sent away for a pair for ?12! A lot I know but they were well worth it!
Anyway, Owen & I had a few drinks in a few pubs in town and I felt very tipsy and very giddy indeed! We headed back to his flat. He was all over me in the bedroom which I absolutely adored! He hurriedly removed my coat, blouse, skirt and bra within a few seconds and was sucking on my very erect nipples and working my already soaking shaven pussy with his fingers like crazy! I was flat out on the bed, long stocking clad legs wide open, heels digging into the bed sheets and ready for anything! He knew what he was doing with me – 100% God I was easy! What a tart! Hehe!
I still remember posing up and down in just my stockings and heels in front of my full-length mirror in my bedroom before I got dressed at home. I was so thrilled with them that it took me approximately 10 seconds to climax whilst masturbating in front of my mirror! I climaxed myself twice in front of my mirror before I finally got dressed – all from just looking at my legs and beautiful smooth shaven pussy; hoping I was going to be having some serious fun with one (or more!) of the black guys!
I slipped on two silver anklets over my stockings, one on each ankle and did my makeup, nails and hair. I looked pretty wicked! Tarty, if the truth be told! It was a look that I loved very much, as it demanded attention and always got it! Hehe!
I was a sex mad nymphomaniac when I was younger and I've openly admitted that to lots of people on MSN in the past! I didn't see anything wrong with constantly wanting different guys for sex nearly every night.
Getting what I wanted was quite easy with the way I dressed; ALWAYS showing off my long smooth pins, its those that reeled guys in like a paralysing tractor beam! Once a guy was stuck in my beam, he was doomed for sure. Kate Cross now had him tangled in her web of sexual s0weetness and believe me – my web was silky sweet! You ask Gwen Guthrie about sweet silky webs!
Hehe!
Okay, where was I? Ah yes… Owen was sucking like crazy on my very erect nipples and exploring my young sweet hunnipot with his big fingers! I was desperate to see what he had on offer for me underneath his trousers so I leaned over and undid his belt, buttons and zip and reached excitedly into his boxers…
I wrapped my hand around something that made me draw in my breath with excitement, which would of given him one hell of a confidence boost! I was very wet by now as he worked me with 3 fingers. He was quite rough with me but it excited me a LOT!
I undressed him and just stared at his manhood in awe! He was huge! He must have been a good 10″ and a few inches wide! As he pushed his tip into my mouth, I moaned with pleasure. I rolled his skin back and worked his huge smooth tip with my tongue.
He held me by my hair and pushed inch after inch into my mouth so I took it like the good girl I am! I had been practicing DT with a German sausage so this prepared me a little bit, but not completely! My jaw was aching as I worked him. I was so looking forward to having him penetrate me with this monster and it wasn't long before I was straddled across him with that huge solid black column probing my young soaking wet pink lips.
As I pushed down, his shiny smooth bulbous tip entered me. I went for it big time and skewered my body down hard on his manhood. As inch after inch penetrated me, I felt quite dizzy with excitement. I got to approximately 9″ and my body felt completely different inside. He held my bottom tightly and hammered the last inch home deep inside me, making me scream out with a mixture of ecstasy and pain. I was now pretty much under his control now as he had me held down very tightly. This feeling triggered an orgasm almost instantly. As I was reeling in my climax, he started to work up a rhythm, which automatically multiplied my orgasm to the power of 1,000,000!
He withdrew his massive penetrator from deep inside me and pushed me face down into the pillow with my bottom up in the air. He held my slender waist tightly as he invaded my young body again. I yelped muffled cries as he fed me inch after inch of pure manhood. He started up a rhythm again, holding on to me tightly and slapping my bottom at the same time! I felt like a real whore but I loved it all at the same time. He started to really work me with unbelievable speed! As an earth shattering orgasm bolted through my young body, he speeded up, holding my hair very tightly from behind and ripping my stockings with his other hand. I was just left with the lace tops still on my thighs – like I was wearing garters!
I screamed out as he viciously drowned my poor g-spot with wave after wave of hot thick creamy ejaculation. He pumped and pumped and spurt after spurt invaded my deepest depths! I felt like I was in a dream world as my body tingled from the inside outwards! I could still feel his creamy liquid filling my body and could also feel it running down my now bare stockingless legs as he slowly pumped me, still hard as a rock!
He built up a rhythm again and I just remember how completely naughty I felt… Naked apart from heels and my new "garters", bottom up in the air on all-fours with a huge black guy skewering me like nothing I've ever felt before in my life! I felt fantastic! This really was my reason for living when I was in "nymphomaniac" mode (24/7!)
He held my creamy white smooth thighs tighter and tighter and pulled my hair back quite violently again, making me yelp! I reached between my legs with both hands from underneath and my mind reeled as I felt his penetrator pounding my young eager pussy so hard! Its sheer size and girth hammering into my body like a big piston in a bore.
Another orgasm shuddered through my body again as he shouted out. I instantly felt his monster jerk strongly inside me and was rewarded by a few more less intensive waves of fresh creamy sperm. I pushed hard against him to obtain maximum depth as he spurted. I felt a weird sensation very deep inside me as though his tip had entered somewhere it wasn't supposed to go, but it felt like ecstasy and pain all mixed together.
I played a part in an interracial xxx video when I was 22 and the same thing happened then. This guy was just over 11″ but not as wide as Owen. I remember that he pushed right into somewhere very deep inside me just before ejaculation but I didn't feel any of it! It also didn't come gushing out after he withdrew either and he was well known for being a very heavy ejaculator! I know I would have felt it under any other circumstances. So, where the hell did it all go? Why didn't I feel it? And, why didn't it come gushing out afterwards? Mmmmm? Anyone know?
Someone suggested that the first inch or so could possibly have penetrated into the entrance to my womb and the ejaculation had spurted into there. Then the womb entrance could have closed up again as he withdrew, holding the sperm captive inside? Is that possible? Medical people? Its only what someone suggested, I've no idea if its true or not! I secretly get quite a thrill from that explanation if I'm honest – does that make me sound just a tad perverted? Slurp!
Anyway, I shall digress no longer… I pushed hard against him again and got the crazy sensation again, this time with less pain. I think he could feel something weird too, turning him on enough to ejaculate once more! The feeling of even more sperm being spurted inside me and experiencing this new ecstatic sensation just pushed me very hard over the edge! I climaxed like a screaming banshee!
I buried my face in the pillow to try and dampen my screams a little. I was soaked in sweat! – so bad that beads of sweat were running down my pert young breasts and dripping from my erect nipples! I'd never felt so erotic and sexually charged!
He withdrew again. I was gasping for breath like I'd just been underwater for two minutes! I started to feel a smooth sensation deep within as he pushed the ripped stockings (without the lace tops) inside me to keep all his liquids locked in. I felt him push the 2nd one in and they felt fantastic. I was wondering if I'd be able to reach inside far enough to pull them out again! I'd never inserted nylon so far into myself before but it felt good, I mean really good! I'd played around inserting stockings and tights before but this was deeeep! It was also helped by the fact that I was so wet and creamy in there too! Slurp!
God people! I've climaxed twice now writing this! Its such a turn-on for me to remember all this and document it for you!
Feeling a bit used and rejected, I gathered my things together during the night and made my way back to my parents house, still very full of male ejaculation and black hold-up stockings! They were bloody expensive stockings for a 17yr old too! Bugger! Did I care? You decide…
I've still got the lace tops belonging to those stockings. They're fun to wear as garters! I used to slip them on over tights quite a lot for that additional "tarty" look! The rest of the stockings were certainly not wearable by any means! They were in about 5 ripped pieces!
Oh yes, approximately a month after that experience, I was sat on the edge of my bed one night masturbating myself with one hand and inserting fingers from my other when I felt something inside me that felt foreign. I grabbed it with my nails and pulled. I felt a really tingly sensation inside. Then, to my surprise, out came a 6″ slither off nylon stocking! I climaxed straight away without even touching myself. I rubbed the soaking wet piece of ripped stocking at lightning speed across my clitoris and erupted into an electrifying multiple orgasm! It was magnificent!
I know what you're thinking… "What a complete TART!!!" Hehe!