Wife and best friend go Black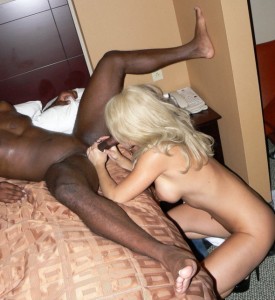 After many years of fantasizing about it, my wife finally got fucked by a huge black cock. Here's the story.
My wife's best friend of 20 years moved from the west coast to a city within driving distance from where we live. Bonus, I thought. We now had a cheap place to stay, as we frequently traveled to that city to shop and party. My wife's friend – we will call her Marnie – was, and is, still single, a little over weight but very cute other wise. My wife is 5'6″ 38″ 30″ 36, and very hot in bed. Both women are 31 years old.
After several visits to her friend's place, my wife told me one night how lonely Marnie is and how her dildo just isn't enough to please her anymore. Renee' asked me what we could do about it, and I immediately thought about your webpage and suggested this to my wife. She was skeptical and thought that there was no way Marnie would go for it. Enough said, I thought, let her find her own solution then.
Unknown to me and my wife, Marnie was in fact aware of your page and was actively pursuing one of your male advertisers. To get to the meat of the story, upon a visit this summer to Marnie's, my wife confessed to me in bed that Marnie had set up a meeting with this mystery man at a local bar, and asked her to go with her. I asked Renee' what she was going to do, and she said she'd go and encourage her friend if the guy seemed alright. Renee' asked me if I would mind not going with them, in order to make her friend more comfortable and so she (Renee) could concentrate on the situation. The account of the meeting, as told to me by my wife (who along with her friend, returned late the next afternoon from this meeting) goes like this:
At 9:30 the two women entered the bar, Marnie dressed in a white blouse with a nice blue skirt, Renee' dressed in her favorite red skirt and black blouse. Both outfits were conservative yet sexy. The plan was to sit at the bar and wait for her date to arrive, to which her outfit had already been detailed. After about twenty minutes a group of black men came into the bar, and, after looking around, one of the men spotted the two women and gestured to the rest of the guys and made his way towards the two women. Upon reaching the bar they approached Marnie and introduced themselves. The man Marnie had come to know as Jamal was well over 6′ tall and very dark and in great shape. He introduced his friends: T.J., Lavar, and Devon, and asked if the ladies would join them at a table for some drinks and to get to know them better.
Renee' felt nervous, having never met any black men before. For her friends sake she put her nervousness aside and said sure, lead the way. Several drinks later Jamal asked Marnie to dance, and Devon asked Renee' as well, and for the next hour the two women proceeded to dance with all the men, having a good time and getting drunker by the minute. Marnie and Renee went to the ladies room and Marnie commented at how the guys were all great dancers and how hot they were. Renee' asked her what she wanted to do now, as the bar was going to close soon. Marnie asked Renee' if she would stay with her if she and Jamal decided to go somewhere else. Sensing her nervousness Renee assured her friend she would be there as long as she needed her.
As I had dropped them off they had no vehicle, so Jamal offered them a ride in T.J.'s car. Marnie crawled into the front with T.J. and Jamal, and Renee' crawled into the back with Lavar and Devon. Marnie and Jamal were getting along well and started kissing in the front, while Renee' felt a hand on her knee. Not really sure what to do, Renee' moved to push the hand away but before she could Devon leaned over and kissed her deeply, forcing his tongue into her mouth. Being drunk already Renee returned his kiss passionately – as she felt the hand on her knee move up her skirt. Unable to control herself she willingly spread her legs to give Lavar full access to her rapidly moistening pussy. His fingers pulled her panties aside and entered her pussy with two fingers while his thumb proceeded to massage her clit. Meanwhile in the front seat Jamal and Marnie were on a similar path as she had her hand on his pants massaging his hardening cock, and he had her shirt open and her bra undone, exposing her full breasts.
About this time, they reached their destination and proceed to make their way into the house. Renee' had already lost her panties and was laid on the floor as Devon and Lavar proceeded to finish undressing her. Now naked, Lavar spread her legs and began to eat her pussy while Devon put his cock on her lips and told her to suck him hard. Never having seen a black cock, Renee' was awed by the size of his as yet flaccid cock and eagerly opened her mouth and sucked his schlong as deep as she could. Marnie, meanwhile, was way ahead of Renee, as Jamal was already hard and she was wet. Marnie was on the couch beside Renee' and was taking Jamal's cock into her hot wet pussy as T.J. shoved his cock in her mouth. Renee' could not control herself and started coming from Lavar's tongue in her pussy and Devons cock in her mouth. Having never had two men at once she was in heaven.
Devon, now rock hard, told Renee' to get ready for the fucking of her life. "I'm gonna take my 10″ cock and fuck you better than you ever been fucked in your life." Renee' could only smile and spread her legs further apart as Devon moved between them. Renee' could hear Marnie screaming as she came on the couch from Jamal's pounding. Sensing her own eagerness to outdo her friend she grabbed Devon's cock and guided him to her pussy. Now, my wife was a virgin when we met – and had never felt another man's cock in her pussy.
My cock, being only 6″, was no comparison to the 10″ big black cock of Devon. Renee' gasped as the head of his dick entered her pussy. She lay there, moving her head from side to side, groaning and spreading her legs as wide as she could. Devon pushed until half his ten inches was in my wife's cunt, stretching her lips as wide as he was wide – as well as deep, deep! Devon proceeded to pull his cock out and then pushed it deeper into Renee's pussy. After pulling out 3 times he pushed into her until finally he felt his balls hit her ass. She had taken all 10 inches, balls deep. Never in her life had her pussy been so full of hard cock, and she begged him to fuck her hard, fuck me, fill me with your big hard cock. Devon told Renee' to hang on, and he proceeded to fuck her relentlessly. After only a dozen strokes of his massive cock Renee' started cumming like a fountain and had the first multiple orgasm of her life. Because she'd been so tight Devon told her he was going to cum. His pace picked up and he pounded his cock into her now soaked pussy, and with one final thrust buried his cock deep in her grasping pussy and sent load after load of his potent sperm deep into her cunt. Thus began the relentless orgy that saw all four guys fuck both women all night and fill each woman with his seed at least three times each. Renee' and Marnie also lost their DP cherries as they learned what double penetration was all about. Around noon the next day my wife and her friend were dropped off with the promise to meet the next time we are in town. My wife slept all the way home, and with Thanksgiving around the corner, our next trip is already planned….
PS: Funny, both Marnie and Renee' missed their next period…..only time will tell……will update the next get together after Thanksgiving…….