How to convince your wife to try black cock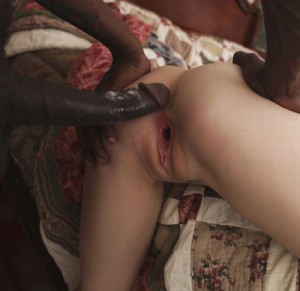 There are so many stories out there from white guys who admit that they want to see their wives and girlfriends whore for black cock or who want a "slut wife" that they can whore out to groups of black guys. I just can't believe so many guys don't know how to make actually make it happen and so I offer this formula that has worked for me and several of my friends that shared mutual interests.
First, you should know that when it comes to black cock, there are three kinds of women:
* One group will never, ever try it, no matter what you say or do. If your wife or girlfriend is in that category and you have these desires, you'd better find yourself a whore or a new girl.
* Another group is women who will whore for black cock no matter what you say or do. If you introduce her to black cock, don't ever think of changing your mind, because she'll do anything to cheat on you and whore for black cock every chance she gets so you have to be prepared that this could happen to you.
* The third group is women who would probably enjoy whoring for black cock if they were only given a slow introduction that somewhere down the line lets them know they have your permission to be a nasty little whore. Guys with these women are by far the largest group of men out there.
If you really want your wife to be a slut for black cock, you have to take it slowly but HAVE A PLAN! One of the more successful methods is to begin to frequently bring home videos that exclusively have interracial scenes in them. Whatever you do, and you want to be successful, don't start off by showing her an aggressive group of black guys gang-fucking a white slut! You should work your way toward that though, over a period of several weeks, since that should be your ultimate goal in turning her into a total slut for black cocks, but you need to start off slowly.
When you first begin and you're watching an interracial scene in a video, its very important to let her know how much it turns you on -not by telling her, but by showing her! Assuming that as you watch the videos, you're making love to her by kissing and caressing her, slowly, make sure her pussy gets wet as you play with her, then begin to eat her pussy more aggressively as interracial scenes are showing, and when you strip her and begin to fuck her, make sure you try to fuck her deeper and harder than you do when you're not watching an interracial video. Let the way you "work her" while watching black men using white women, leave no doubt in her mind that seeing that pretty white whores doing black cock really makes you hot and results in her getting better sex.
Then make sure that when you make love without the interracial videos, it's not as pleasurable for her. If you do this right, she'll be suggesting or begging that you watch interracial videos on a regular basis.
As time goes on and you know she has gotten the connection between the level of satisfaction she gets when watching interracial videos, that's when you begin to show her more explicit videos, eventually involving multiple black cocks, gang bangs, anal, and some serious whoring for black men by white housewives!
It might be at this point that you introduce a large black dildo into your lovemaking so that she can see what big black cocks feel like. Its important that when you do this you do everything to see that her pleasure is increased, including bringing her to multiple orgasms with the dildo, your cock, and your mouth until she can't stand it and pushes you away!
The next step is a little more difficult, but by this point you should have found a way to verbalize how hot it makes you feel to see the white sluts in the videos with black cocks. Then as you're making love and using the black dildo on her, you should let her know that you've fantasized about seeing her in that situation with a real black cock. Don't look for her to agree to anything right away and maybe she won't even respond or will say she could never do that! It will take a little time, but if you're patient and continue to see that the only time she is totally satisfied is when you're watching interracial videos and talking about how much you'd like to see her with the real thing, eventually she'll get comfortable with the idea and start fantasizing about it herself.
Talk to her and continue to tell her how much you'd like to see her and ask her to admit that she'd like it. If she says she won't do it, or doesn't respond after a few weeks of super sex and multiple orgasms, you should just stop and leave her "high and dry" and not bring her to orgasm. If she asks what's wrong, tell her that you really had hoped she would share your fantasies and when she is so firmly opposed, it turns you off. It won't take long until she will tell you what you want to hear and begin to really fantasize herself!
At that point, you should begin to start by visiting CuckoldLand and watching videos that feature white women looking for black cock. Don't shove them in her face, but leave them on the monitor where she'll know you were checking them it out. Its important to mark them in some manner so that you know she found out and has looked at them. She may make it easy and ask you about them right away, but if not, you have to be prepared to tell her that you know she has been looking at them and ask what she thinks.
Have her read some of the nasty letters at CuckoldLand Stories. Again, if she shows interest, see that she is well satisfied sexually, if not, leave her to get horny but don't give her any release!
The most ideal situation is if you can get her to a place where she can actually see a white slut doing black cock in person! There are a couple of ways to do this from taking her to a integrated swingers club where I guarantee you she'll be able to see the white women there being well satisfied by the black members. Another way is to contact an interracial couple and tell them the predicament you're in and ask for their help. One way this has been successful in the past has been when an interracial couple has agreed to meet them at XXX-rated theaters. If you can get your wife or girlfriend to go to an xxx-theatre and have the couple agree to be there with maybe one or two of their other black friends, you're on your way for sure.
The guy and his wife sit in an agreed upon location in the theatre without her knowing things were set up, then watch the movie for a short while. In a short time, the interracial couple and her black friends come and sit near the guy and his wife, and one of the black guys starts to work on the white female with them. First he may just start deep-kissing, then he might expose her tits and finger her, and before long, she might drop to her knees and begin sucking and playing with their cocks, oblivious to those around her, and giving everybody including the guy and his wife a real show.
The guy should keep watching and let his wife know he's getting turned on just like they do at home when they're watching the interracial videos. Before long, she won't be watching the screen; she'll be staring at the slutty white whore shamelessly sucking two thick, black cocks. At this point, the guy can whisper to his wife and encourage her to go over and join the slut and her black lovers. A little pushing to encourage her and maybe the slut could motion for her to come closer. The guy says they should move closer even if she isn't going to join.
I've seen situations move in many different directions from this point. One woman became a little frightened and left (although she came back to the theatre by herself two weeks later looking to see if the slut and her lovers were around). Some women just stay where they are and their husbands finger them or lick their pussies, while they watch the action, usually with the husband telling them how beautiful it is to see the white woman with the black men. (These women are usually only a few weeks away from the actual experience.) And, surprisingly, some women after coming closer and sitting one or two seats away, finally give in to their desires and join the white slut and her black lovers; and when this happens, their husbands usually are very vocal in telling them how very happy they have made them. Once this has happened, they will never go back, and these women usually become whores for black cock from that day on!
Another place couples interested in watching before they participate can go is the XXX-rated book stores with peep booths in the back. The husband should find one that has adjacent booths where you can watch the people in the next booth from across the isle, or better yet, if he can find the ones that have glory holes where guys can stick their cocks through to suck, these are the best.
Again the husband could arrange to take his wife there and arrange to have an interracial couple go there at a predetermined time. Once again, the entire scene should appear very spontaneous to the woman. Sometimes, they decide to first notice each other in the book store/video rental section. After watching the white slut and her black lover do a little teasing and exhibitionist play, they usually move to the video booth section, where they enter a booth and the husband and wife enter the adjacent one.
They usually watch as the black man or men work the slut over for a little while, and then the guy can usually get his wife pretty hot as they watch. By the time the black guy sticks his thick, black cock through the glory hole in the couples booth, the wife is usually ready to suck him off while her husband fucks her and tells her how beautiful she looks and how much he loves her. Often, his wife ends up in the booth with the black man and tastes the real thing in her pussy for the first time while her husband watches. Again, there is no turning back after she's had a big thick black cock in her pussy and her husband now has a full fledged slut for black cocks for the rest of his life!
The only thing I would warn guys about is to not pursue this unless you're really sure you want your wife to be a whore for black cock. Like any extremely pleasurable experience, its very difficult to give it up once you've tried it and I guarantee that she will find it pleasurable as only a black man can make a white woman feel. A return to anything else seems mundane and she won't be able to stop.
But if you're really sure this is what you want, "Do it and do it now without delay!"
It takes some planning and a little work, but the first time you see a couple of black guys strip your wife, work her nipples and clit as they undress her …
The first time you see the nervous look in her eyes as she looks for your approval, knowing she's so turned on that she couldn't stop anyway …
The first time you see a black hand slip up your wife's milky white thighs under her skirt to her soaking wet pussy and finger her within minutes of meeting her in a dark restaurant or hotel bar …
The first time you see her on her knees as that thick, black cock glides past her lips and you know its her greedy mouth's saliva making that black skin shine …
The first time you see that long, thick, black cock meat sliding into your wife's open cunt, thoroughly soaking his dick with her cum as you watch her eyes roll back into her head as he brings her to multiple orgasms like you could never do …
The first time you see her take a long thick black cock in her mouth, pussy and ass at the same time, begging them to fill her with their potent black sperm …
The first time you watch her dress to go out, knowing she's dressing like a total slut because she's going to get that black cock that she's been thinking about all day …
The first time she comes home at 5 a.m. thoroughly fucked and coated with dried cum all over her and you put your hand under her skirt and feel the soaking wet panties she put back on to keep the massive amounts of cum from running down her legs …
The first time you smell and taste the cum on her face, her hair, her tits, and you know she's been whoring all night …
The first time you see her in a black bar being passed from one guy to another as they dance slowly with her, running their hands all over her on the dance floor and every guy in the place knowing your wife's a whore for black cock …
The first time you see your wife enter a room full of black guys because she's being whored out by a special black guy who really knows how to please her …
The first time you watch her get fucked all night long, guys cumming in her and all over her …
The first time you watch her begging for more and more black cock as guys tease her with the tip of their big black cocks, putting them at the entry to her pussy, then withdrawing them again and again while she begs for them to fill her …
The first time you hear her admit over and over that she's a total whore for black cock…
… then you will know that all your effort, time and care will have been well worth it.
Once you've had this experience, then you can write and tell the world what a lucky guy you are and know that you are envied by so many others out there who didn't have the courage or who were married to women that will never live up to their fantasies!