My Bar Fantasy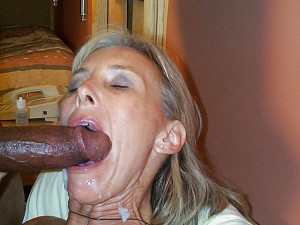 My wife Lisa and I often share our fantasies with each other. There was one in particular we agreed we would like to make a reality should the opportunity come up. Let me begin by telling you that Lisa is 48, mature and very sexy, 5′ 2″ 130# with sandy blond hair and very seductive green eyes. She has a full firm 36C chest with nipples that stand out almost an inch when erect. Lisa is always the lady when we are out but in the bedroom she is the ultimate slut. She is willing to do anything to give her partner pleasure and is not shy about telling you what she needs to fulfill her owns needs. We have played some before and I enjoy watching her be the same slut with others, both women and men that she is with me.
We had a free weekend coming up so we decided we would see if it was possible for the fantasy to come true. We drove to a neighboring town, as we could not play close to home due to needing to preserve our professional reputation. We chose a motel with a lounge we had heard was popular and had a name for becoming a hot place for singles on the weekends. We checked in and got ready for the night ahead. The plan was for me to get ready first and go down to the bar alone.
Lisa did not want me to see what she was going to wear, assuring me I would not be disappointed in her choice of attire for the evening. She would come down later, acting as if she was there alone looking for some action. I got ready and kissed her goodbye, giving her ass a light squeeze underneath the robe she was wearing as she was waiting to get in the shower. I removed my wedding ring so no one would know guess we were together, but she was to leave hers on to give the impression she was a married woman looking for a night of infidelity. As I went out the door she gave me a wink telling me she would be down in a little while, for me not to worry.
The lounge was not very busy as I entered and took a seat at the bar. I figured it must still be a little early as there were only about ten guys, four women and two couples there. I ordered a beer and struck up a conversation with the bar tender asking if it would get busier as the evening went on. She told me it was usually standing room only on the weekends and I was smart to get there early. Just as she had told me, the lounge began to fill up the later it got. There was a nice combination of men and women, with the men out numbering the women two to one. A few more couples came in but for the most part it seemed the crowd was singles. I felt a pang of excitement, as I knew this mix played into our favor for what we had in mind.
Almost two hours had past since I left Lisa and I was hoping she hadn't gotten cold feet and decided to stay in the room. Just as I was about to ask the bartender to use the phone to call our room a lustful beauty enter the lounge. Lisa certainly had not disappointed me with her choice of an outfit. She was wearing a long black gown I had bought her. A gown that was probably only meant to be worn in the bedroom, but hey, where were we hoping this fantasy to lead?
The straps of the gown criss-crossed in the back showing she was not wearing a bra allowing her full tits to bounce back and forth as she walked. The gown had a high slit up the back, which opened each time she walked to give a view of the printed thigh highs she was wearing. I had discovered at home the slit in the gown fell open to offer an excellent opportunity to fuck her pussy from behind when she was on her hands and knees. I wondered if she had worn panties, the slit unfortunately stopped just short of giving that little secret away. Her sexy outfit was completed with 4 1/2 inch black stilettos that gave her legs a long muscular look. She walked to the other side of the bar and ordered a drink. In the light at the bar I could see Lisa had lengthened the eyeliner out to a point from the corner of her eyes giving her that very sultry look that I like. She stepped back from the bar sipping her drink as she looked around to check out the prospects to fulfill our plans of fun for the night.
I saw her stop and concentrate her look on a table with three guys, probably mid to late twenties in age. I knew she likes the interest and eagerness to please of men this age. There was one guy with kind of an outlaw look with long dark hair; a type I know gets her pussy wet. Sure enough she walked over and started talking with him. He pulled up a chair for her as the other guys eagerly moved around to make room for the hot looking woman. They chatted for a while and I saw her hand touch the inside of her prospective playmate's thigh as she leaned into him to whisper something in his ear. I assumed this was a cue that she was telling him about her idea of wanting to experience a threesome. She had said she would tell him this was a fantasy she felt she could never tell her husband she wanted to try. I could tell by the wide smile on his face as she pulled away from his ear that she had definitely gotten his attention. She continued to talk with all three of them but concentrated most of her attention on the original choice. The other two soon realized it was only their friend she was interested in and got up and left the table getting lost in the crowd.
With the two of them left at the table alone, Lisa turned her new friend's head toward her and gave him a deep wet kiss. She dropped her hand to his crotch to feel his cock growing in his jeans. Leaving the table, I could see she was reassuring him she would be back insisting she was going to get another drink and reminding him she still needed to find the other lucky guy to join them in their activities. Lisa came to the bar and excused herself as she slid in beside me to ask for another drink. After getting her drink, she casually turned to me in a position hiding her face from the table of her friend. She asked was I OK and was I sure I wanted to go through with this? I assured her I was fine and showed her the bulge in my slacks that indicated my approval of her actions so far.
I ask her if she was OK, she could back out now and I would meet her up stairs, with no hurt feelings on my part. She explained to me she wasn't too sure at first, but her pussy had become very wet after she had taken the initiative to approach the stranger and she was becoming more excited by the minute. She said she wanted to keep the fantasy going and see what happened. She told me her friend's name is Troy and he is definitely interested, but she would see how he felt after introducing me as her other choice for the evenings play. With that said, she took my hand and led me over to their table. Troy and I shook hands as we exchanged introductions. Lisa went to a chair on the backside of the table beside Troy and I sat on the other side of her. She asked Troy if he was still interested in helping her out and he anxiously replied he was.
The talk between the three was casual at first and I could sense some uneasiness in Troy's voice. Lisa explained to us she had a room in the hotel where we could go play. She also told us she did not want Troy and I to do anything to each other. Troy exhaled with a sigh of relief. She then asked us about what we found sexually attractive in a woman and what we would do to her in her hotel room. I knew Lisa still needed a few more drinks to get her courage up to go through with the plans. Troy and I tried to increase her desire by stroking the insides of her thighs under her gown. I think we both got a good feel of how wet her pussy was by moving our hand far enough up her thigh to insert a finger in her moist snatch. After two more stiff drinks and an hour of sexually suggestive conversation and caressing of her thigh and pussy Lisa said she was ready.
She asked if we would escort this horny slut up to her room. Troy and I were up in a moment offering her an arm. As we walked out of the lounge, all heads turned our way, wondering where the sexy woman was going with two men; since most had noticed her enter the lounge, alone! It was just the three of us on the elevator and as soon as the doors closed Lisa was deep kissing Troy and stroking his cock with one hand and searching for my cock with the other. She withdrew her kiss to say how horny she was for us how she was so looking forward to having two cocks at the same time. With that said, she raised her gown revealing she had no panties on and slid a finger from each hand through her soaking wet pussy and offered one to us to taste how horny she.
The elevator reached her floor and we hurried to the room with Lisa hanging all over Troy and I and grabbing hungrily at each of our crotches. She fumbled for the key in the top of her nylons and Troy and I offered to help, but our hands managed to only find her dripping pussy. Somehow we did get into the room and once inside Lisa was working feverishly at getting us out of our clothes. Troy helped her with his belt and pulled his jeans down releasing a rock hard cock a little longer than my 7 inches but not quite as thick. She immediately pushed him back into a chair and dropped to her knees. She was licking his balls and saying how she had thought all night about getting her mouth on his cock. Lisa pulled her gown apart at the slit and instructed me to work on her pussy from behind. She then turned her attention back the cock in hand lowering her lips to the tip of Troy's cock. She licked the head savoring the silky texture of the skin. She sucked the head through her lips and began to work her mouth up and down on his tool. With each down stroke she took more and more of him until her nose was buried in his pubic hair. This was something she was never able to do with me due to the thickness of my cock.
I could tell she was excited to deep throat a man since I had told her how hot it is to have a woman take all of his cock. Lisa went to work with her mouth, sucking Troy's dick like a well-seasoned whore. Meanwhile, I was sliding three fingers in and out of her wet pussy from behind as I crawled under her so I could get my tongue on her swollen clit. Troy was quickly nearing orgasm from the twisting motion of Lisa's hands and mouth on his cock. Sensing this, Lisa popped his dick from her lips and told him, not yet, as she was not ready for him to cum.
Lisa stood up and had Troy and I finish undressing and sit on the bed as she did a slow strip tease letting her gown slide very seductively from her shoulders, falling into a pile on the floor at her feet. Troy couldn't help but to reached up and give her full firm tits a squeeze and tweaked her nipples between his fingers. Lisa's knees almost buckled form the sensual touch of his hands on her breasts. She pulled away, standing there before us with only her nylons and heels on. She looked so delicious standing there in front of us. Lisa then instructed me to slide to the head of the bed and she placed some pillows behind me so I was sitting against the head of the bed.
She crawled between my legs and grabbed my cock with her hand and asked Troy what he was waiting for, she needed his cock in her and she did not want him to waste any time ramming it deep in her hungry cunt. Now she turned her head to me and started sucking my cock like she had never sucked before. She raised her ass in the air to give Troy full access to her swollen dripping cunt. Troy obliged her wishes by sliding the head of his dick along her slit then put the head in to prepare Lisa for the fucking she was about to receive. He worked the head in and out to get his cock lubricated with her juices, and then he slid it in to the hilt causing Lisa to remove her mouth from my cock releasing a loud scream of pleasure as she came instantly. With each thrust of Troy's cock my dick went deeper into Lisa's mouth. She was fucking and sucking us like a wild woman in heat who had not had a cock in years. Troy was really fucking her hard, she took her mouth off my cock to tell him to slap her ass and fuck her even harder. She seemed to be having orgasms one after another.
As Troy neared orgasm, Lisa screamed out to him that was the way she wanted to be fucked, to give it to her hard and deep, to fill her up with his hot cum, she wanted to feel his hot seed deep inside her. Troy's whole body tensed as he unleashed stream after stream of his burning liquid into the depths of her cunt. She was coming with him as he emptied himself into her. Lisa forgot all about me for the moment, pushing her pussy hard back against Troy to get as much of his dick into her as possible. When he had gave his last thrust, she quickly swung around to take his cock in her mouth so she could lick him clean of their combined love juices.
Her pussy was now facing me and I could see the results of their orgasms running down the inside of her legs. Satisfied she had Troy's cock clean as a whistle, Lisa rolled onto her back and told me this slut was now ready another cock in her pussy. I quickly moved between her legs and easily slid into her now sopping wet pussy. I could hear the juices squishing out of her each time I drove my cock to the bottom of her cunt. She talked like a slut, telling Troy and I how big of a fantasy it is for a woman to have a cock slide in her pussy right after another man has just pumped her full of cum. Lisa told us what a slut she felt like and how much she loved it, to fuck and suck two men at once.
To finally be the slut she had always wanted to be. She was very slick and a little stretched from the earlier hard fucking, but I knew I would not able to hold out long. My cock tensed inside her and she told me the same she had just told Troy, to fill her with my hot cum, she wanted to feel it spilling out of her. She wanted to feel it running down her thighs onto the bed. I moaned and gave her all I had as I exploded into her, cumming more than I think I ever had before. No sooner had I spasmed for the last time, shooting the last bit of cum into her, than she sat up and took my wilting cock in her mouth like she had done to Troy's. Lisa licked me clean but she was not finished yet. She leaned back and stuck two fingers in her cunt and then raised them to her lips, moaning as she sucked them clean of the combination of the our juices. Again she put her fingers in her cunt, pulling them out scooping as much cum as she could, and spread the slimy wetness all over her tits, rubbing it in like it was some kind of miracle skin cream. It looked as though Lisa was coating her whole body with our cum.
Troy had moved to a chair and was smoking the obligatory cigarette after satisfying sex. I moved to the other bed to watch the show of Lisa enjoying the after shocks of the fucking she had just received. Lisa told us it was time for us to leave. She said she needed a shower and was ready for some rest. I knew this was the signal for us to leave. I turned to Troy and said, "I guess our work here is done." We dressed and went down to the lounge. I suggested we have a beer and relive what had just happened. Troy seemed thankful for the suggestion as I could sense what had just happened was a little too overwhelming for him and too much for him to keep to himself.
He said he had never had a woman who could be such a slut. He told me he had always dreamed of finding a woman who loved to fuck like Lisa. Troy said he had noticed the rings on her finger and remarked how her husband is one lucky SOB and what a shame it was she had to go out to get her fantasies fulfilled. Little did he know it was Lisa's husband he was talking to. I just sat there and agreed with him. I do know how lucky I am to have Lisa as my wife and thankful I am able to be a part of her fantasies. We finished our beers and both of us came to the conclusion there was no reason for us to hang around the bar any longer, as we would not find anything else that could top what had just happened. I walked with him out to the parking lot.
Troy was a little surprised to find his friends had left without him so I gave him a ride home. I then drove slowly back to the motel playing the scenes of Lisa fucking and sucking Troy and I with a hunger I had never seen her exhibit before. I have never been more proud of my slut wife as I was at that moment. Back in our room I found Lisa curled up in bed.
As I slide in behind her I could smell the freshness of her body. She had taken a shower to wash the sticky juices from her body. She woke up as I put my arm around her and told me she loved me and thanked me for encouraging her to try our fantasy. She said she now knew why two men was such a hot fantasy for a woman and was surprised to see how excited it made me too. Lisa said she now realized I would never let anything bad happen to her and if our other fantasies turned out to be as much fun as this one, she is anxious to make them a reality too. And with that said I whispered, "I love you" and we slipped into a loving deep rest in each other's arms.