My Wife's First Black Man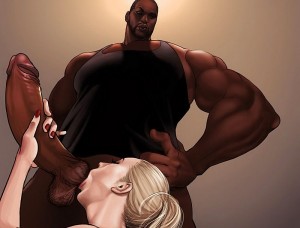 This story is about my wife and her involvement with black men over a period of twenty years (1950-1990). The basis of the story is her log that she kept and I have for sometime been trying to get them in order in order to really see what she found while I was gone to the Korean War and how she got so involved.
Let me describe her to you first, she was a nice brunette weighing around 120 pounds, with a 5'5″ frame, nice looking. Her build when we married was breasts like eggs, fried eggs, don't laugh but yes she really had no breasts other than two nipples that loved to be sucked. Her pregnancy soon took came of that and she had a pair of 38DD's that she loved to have played with. She was also a virgin and after the first time told me "If I had known how nice sex was you would never have gotten me a virgin."
We got married shortly after I came home from WWII and were blessed with two sons and then the Korea War came up and I was recalled into the Army and gone for 14 months. This story starts a few weeks after I had left.
Margie and I had a very nice love life, she loved sex, and we made good use of it, In the morning when we woke we mads love, then I would come home at noon and again we went to the bedroom where we usually played 69, when I came home at night before dinner another quick session making love, After dinner and a quiet time we went to be for a long time making love. That's right 4 time a day for 6 weeks before I left for Korea.
Her mother wanted to spend some time with the two children and let 'Margie' have some free time for a long weekend. Margie planned on going to see her sister when she left the house. She got about a half hour from home and stopped at a road side street car diner for a bite to eat. The place was crowded with a lot of trucks and truckers. Once in the diner she saw all seating was taken and turned to leave when one man spoke to her ,
"You looking for a place to sit?"
"Yes."
"OK sit here and share the booth with my partner."
He moved to sit with his partner and let Margie sit across them. As they ate they talked and she told them about being alone, with me gone to Korea and she was making a surprise visit to her sisters for the weekend.
They finished eating and she rose, reached for the tab and one of them grabbed it telling her,
"Our treat."
"Thank you."
As they left the diner and escorted her to her car she asked one,
"where do you spend the night?"
"Oh we are staying in one of those cabins back of the diner."
A set up something like today's Motels, maybe thirty cabins were strung behind the diner.
As she unlocked the car door one asked her,
"Would you like to see what they look like?"
She stood there with the car door open and turned to them and knowing full well what they wanted if she accompanied them, close and locked the car door and with a smile walked with them to the cabin they had pointed out. Her first fuck other than me was about to take place.
Her notes she had written recorded that it took them maybe two minutes to have her naked and spread wide on one of the two king size beds, as they undressed. They were soon laying next to her and everyone was having fun. She was sucking one cock and the other had his cock in her cunt.
"Oh fuck me please, fill my cunt with your cum."
"You sure you want it in you?"
"Yes fill my cunt and fill my mouth, please, it's been so long since I have felt this good, don't stop."
One thing Margie was I sat blessed with is that she had an operation when she was an early teen and by error one ovary was removed so she was fertile maybe every 58 days not the usual 28 days.
The two men took turns and before they went to rest  they had filled her with three loads of cum each in her mouth and cunt. She spent the night with them and again about 4 AM was woke up and one fucked her before getting up,cleaned up and left to get the truck going while the other fucked her. The first trucker came back in and stood by the bed and asked her,
"Are you ready for more?"
"Yes."
"OK but this time here put this over your eyes and pretend that your husband just came home and is going to fuck you."
"OK, sounds nice."
She covered her eyes and listened as the trucker as he undressed then his weight was on the bed over her, then she felt his cock start to slip into her cunt. Suddenly she realized that it wasn't the trucker the cock was too big and was deeper than either had gotten when they fucked her so she pulled the blindfold off her eyes to see the big grin and white teeth looking at her of a black man.
"Hi there gal I'm Mike how does tis feel in you.?"
She had wrapped her legs around his waist before she removed her blindfold and had pulled him deep in her cunt.
At once she lost all the racist she had in her self. She smiled up at him looked over at the two truckers,
"Thank you, now you fill me good with your cream, Oh you feel so good in me I want more."
The truckers smiled and telling them,
"The cabin is paid fro until noon, enjoy it." and were gone.
Mike smiled and told Margie,
"You know you were built for a black cock in your cunt, you took me like it was used to be in you a lot, all 14 inches, and I am going to fill your cunt with a gallon of my sperm, if that's where you want it."
"Oh yes fuck me and fill me with you sperm, ram it deep in me it feels so good."
Her log book recorded it, that it felt like a water hose at full burst when he came in her, he put more cum in her with one fuck that the truckers did in all night fucking.
Mike slowly pulled his cock out of her cunt and rolled beside her, Her first thing was to begin to clean his cock (something she always did with me) but was unable to get his whole cock in her mouth. Mike told her again and again,
"You were built for black cocks to fill your cunt and also your mouth, it a short time you will be able to swallow my whole cock just you want and see."
Her log book then records that he asked her to put her coat on and he'd buy her breakfast at the diner. She rose and started to dress and he stopped her, telling her just your coat you'll take it off when we get back for more fucking. And she did as he asked, Her coat had only one button at the waist and wearing only the coat revealed a lot of her skin especially when she sat down, especially her legs and her cunt were revealed. The diner was empty except for the cook and the dish washer, both black men. Mike spoke with them when they came into the diner as Sam and Oscar.
Sam came over to the counter where they at and smiled at Mike
"Nice looks, how was it?"
"Sam, she's built for big black cocks, after a bite to eat you and Oscar should take her in the back room and fill her with your big black cocks she'll love them."
Sam looked at Margie and asked her,
'Is Mike right, you willing for me and Oscar to fuck you?"
Margie log book wrote, I said yes, I didn't know why, but I really wanted more fucking.
After both men had fucked her she also sucked them clean smiling after and telling them "I will be back and you can fuck me some more."
Mike took her back to the cabin telling her time and time again ,
"You were built for big black cocks, you like them don't you?"
Back in the cabin after Mike fucked her she asked him,
"where do you live?"
He told her and she smiled at him telling him t hat he lived in the same city she did and that she would see him a lot more. She told him where she lived and offered to taake him home as he had hitchhiked this far so soon they were at our home and she was showing him around and soon had him in bed with her fucking her more.
She took him home and he asked her "want more?"
"Yes."
"OK, park in the drive, leave room for another car, dad and mom must be out but my brother is here."
Wearing only her coat at Mikes request she entered the house with him. once in the house, Mike reached over and unbuttoned the singly button on her coat, pulled the coat off of her as he told the two black men,
"Look what I found at the diner and is she ever tight, giver her a try and see how she feels to you, she loves big black cocks."
As she wrote in her log book,
"OH what a fun time big black cocks filling me time and time again, I loved it and want more, Mike is so good sharing me with his family and friends.
As the three black men were taking turns two more people came in Margie looked at saw a man and woman, Mike spoke up.
"Hi Mom and Dad this is Margie she loves it in here and she is built for big black cock, Dad try her and see if she can take you."
The mother spoke up,
"Yes Jed, try it and if she can take you what a relief for me, girl if you can take his cock in you, you are welcome any time you want."
Margie was full of cream and her cunt was wide open as she watched Jed undress and when she saw his cock, even though it want' hard yet he was bigger than any she has seen and getting bigger as Jud leaned over her placing the head of his giant black cock at her wet cunt and then pushed some of it in her. She spoke up to him, "Take is slowly, your the biggest thing I have ever seen and felt, be slow please." She spread her legs wider and slowly he slid his giant black cock in her cunt until he exclaimed "It's all the way in you got it all in you, are you OK?"
"Yes I'm OK now fuck me and empty your balls in my womb as that is where you have your big black cock now."
In her log book she wrote "What a lovely cock he had."
She spent the night resting with Mike after he told her she was built for big back cocks and that he would see that she got plenty for her willing cunt.
In the morning she went to the kitchen, naked, telling the mother she didn't have any clothes with her and the mother told her that she was alright naked as the men would strip her as soon as they got up anyway. She also told Margie.
"Thank you for taking care of Jed he has always wanted to fuck a white woman but wouldn't let him fuck her once she saw his cock, even I have trouble of taking him at times, thanks again."
Just as breakfast was finishing the door opened and in came 8 black men it turned out to be 3 of Mikes uncles and 5 cousins making now 11 black men for her to take care of and the rest of the day was taken up with every one taking turns with Margie. She loved it and was sorry that she had to lave and go to her mothers and pick up the children.
She picked up the children and went home, tucked them into bed and sat around thinking of what had happened to herself, She thought of what Mike kept telling her "You are built for black men to fuck."
She finally slept and was surprise when she rose in the morning to see is snowing and snowing hard already several inches on the ground. She checked the weather report and found that it was a snow front and expected to drop at least a foot or more by Tuesday night. She went out and as the kids played in the snow she cleaned the car off and shoveled some away from the car. It did keep snowing and finally late on Tuesday night stopped with nearly 2 feet of snow on the ground.
Tuesday night she put the children to bed and went to work clearing and shoveling. Then she heard the cars coming and stop at the drive, out climbed several men, once came to her and she saw it was Mike he told her.
OK, Margie, you go in the house we'll clean the drive and you fix us some hot drink, coffee and chocolate, hot water for tea, and oh yes, undress, and be naked when we come in."
Margie asked "How many are there to fix for?"
"Counting me 19."
It didn't take long before the men came in, took off their boots and clothing, all had a drink and then the real fun began. One after the other took turns fucking Margie, then two at a time so she had a mouth full of black cock and her cunt as well, then they fixed her airtight. The first time in her life that she had three men at one time in her mouth, in her cunt and one in her ass. They were finally finished and all left except Mike who spent the night, repeating to her,
"You were built for black men, big black men."
Margie's log book kept a record and from all that I looked at she must have had at least several hundred men in the year that I was gone.
She tried to explain it all to me when I returned and we went on a vacation with the kids, she explained that she missed our love making times and needed some sex while I was gone, I could understand that, but black and then as she told me she didn't plann it that way but took it and now can't stop, she feels that she has to have a black cock in her often and hopes I understand. She tells me she loves me but wants to fuck black men. I met Mike before he was getting married and he and his coming wife watched as he fuck Margie because his girlfriend wouldn't fuck until married then only her.
That's all for now and if I have given you something to read and enjoy let me know and I can tell you more of the sex live of my wife, a woman that I loved dearly and was a good wife and good mother to our children who had no idea that she did what did.